Writing a gun blog certainly has its advantages. One of those is exposure to brands and products you may not otherwise have come in contact with. A perfect example of this is this quality European scope, which I may not have tried out if I didn't spend a lot of time researching firearm-related products.
The DOCTERsport series is aimed at target shooters, whereas most of the riflescopes made by Docter are built for the European hunter. With this kind of heritage, you know the scope is going to be made to pretty exacting standards, as hunting in the Northern hemisphere can occur at temperatures and elevations unknown to Kiwi hunters.
Speaking of heritage, other factors contributing to Docter's all-round excellence are it's shared heritage with Carl Zeiss and its more recent past with Analytik Jena, a company that specialises largely in precisely manufactured and tightly toleranced lab and medical equipment. Docter was recently bought (along with the bulk of AJ's business) by capital investment firm NOBLEX GmbH. The new owner has assured customers that they will continue to manufacture existing Docter products and parts, and will even invest more into the optics business. Hopefully this will mean continued advancement from an already great producer of high quality scopes.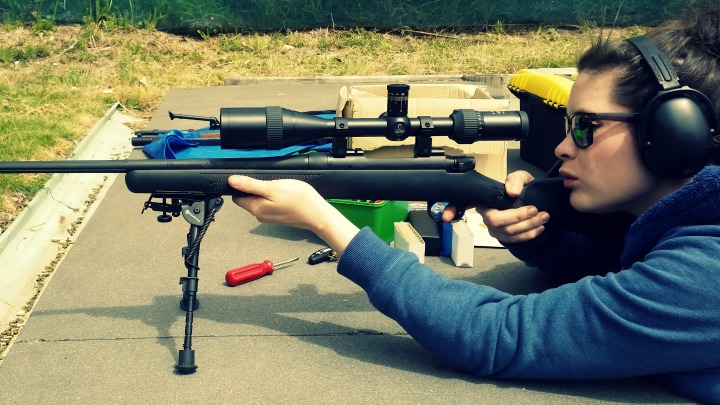 Being European…
The simple fact that this scope is manufactured in Germany by a known maker of fine glass means a lot. It means great optical clarity, fantastic quality and technical specs like you can't believe. It also means measurements and manuals are in metric units. For example, the lower magnification scopes in the range have adjustments of 7mm per click at 100m – thankfully for those that are used to imperial or MOA measurements, this is 1/4″ at 100m. For the 8-25×50 model you are looking at 3.5mm at 100m, or 1/4″ at 100m, per click.
Light transmission
The scope has fantastic light-transmitting properties. According to Docter, more than 90% of light is transmitted during the day and more than 86% at dusk – not bad in failing light!
At the highest end of the magnification range, you do lose some clarity, but not as much as you'll notice in cheaper scopes. I only really noticed it the other week at max magnification, shooting in a thunderstorm, with heavy clouds. Under normal shooting conditions, you won't notice a lack of light at all.

The 8-25×50 model
This end of the series has the largest objective bell (57mm tube – 50mm lens) and zoom range, so you know you're dealing with a long-range scope. However, there are a couple aspects to consider when using this scope for extended ranges. Firstly, the 4.5-15×40 and the 8-25×50 are the only AO models in the range, so you'll be parallax free if you have your settings right. That's one for the positive column.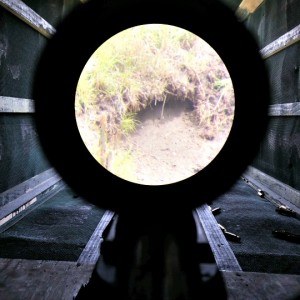 On the negative side of the ledger, the adjustment range is not huge. In fact, in the AO models, it's significantly less than the fixed parallax versions. I'm no scope manufacturer, so I'm guessing it's to do with two things – introducing more gearing for the Adjustable Objective, and having a limited amount of space in the housing.
The lower end scopes in the range have an adjustment range of 150cm at 100m. So, theoretically (if you're zeroed in the exact middle of the adjustment range), you can adjust 75cm up or down at 100m. At extended ranges, this will translate into greater vertical or horizontal distance. However, obviously, if you're working in MOA or MilRads, it's one constant number.
With the 8-25×50 model, your adjustment range is just 56cm at 100 metres. However, if your rifle and mount are true, this is okay. If you want to shoot beyond 300m – 400m and you're shooting a calibre with a significant drop, you'll run out of adjustment range. Also, with any scope, if you're at the end of the adjustment range, you'll have other issues with gearing. So, if you want to get truly long range, you'll need to get adjustable bases or a 20MOA rail – although, let's be honest, if you're serious about long range, you have those anyway.
When I first tried this scope on my 6.5×55 I could barely get on paper at 25m, and at 100m I just didn't have enough adjustment to get on paper. I was too low and to the left. However, the issue was not with the scope. This limited adjustment range highlighted the fact that whoever mounted the bases on my rifle had done a pretty poor job of it, with the rear base sitting higher than the front and off to the side a fraction as well.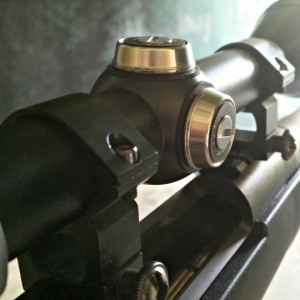 Mounting the scope on my 7mm-08, I enjoyed the crystal-clear clarity and the extras Docter had sent along. The first time I used this scope on my Mossberg was at the NZDA Taupo range in the height of summer, with huge amounts of glare and mirage. Thankfully, the long sun shade made for easy shooting and eliminated a lot of mirage from barrel heat as well. You know careful thought and consideration has been put into the machining of these threads, as the logo lines up nicely with the top of the scope, as does the logo on the large eye piece.
I say the eye piece is large, but it's not overly so. It's more that it is longer and bulkier, than wider. So it shouldn't get in the way of bolt handles on modern rifles, but it has a lot of tolerance for eye relief, allowing you to mount the scope in a way that suits your shooting style. It also has a great fast focus ring that extends a fair way.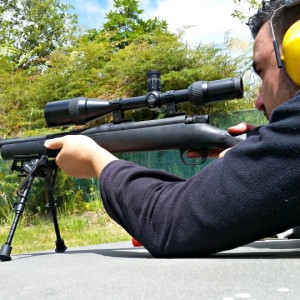 Adjustments and reticle
This scope does have a lot of features, and this review article is probably dragging on a bit, so I'll finish up with a quick overview on the adjustments and reticle.
There are various options for reticles – Plex, Dot and Cross Hair. The scope that I was sent to review is the Cross Hair variety, and it is exceptionally thin. This is great for seeing more of your target at long range, but it's difficult to use in quick-fire applications, where you would want the Plex reticle. In my personal opinion, it's a bit too fine, but for those that shoot long distance all the time, it could be just what they want.
There are no reticles with holdover marks (unless you count the post on the Plex), so it's a scope designed for shooting at known distances. Again, this does mean a cleaner and less obstructed view through the scope.
Most Docter scopes come with finger-adjustable turrets under caps. This particular model comes with tool (or coin) adjustable turrets under low profile caps. The reason for this, is that there are optional target-style turrets that are finger adjustable, and screw into the coin adjustment slot. I like the idea of target turrets, but this method does make them a bit too sloppy in my opinion. The tactile response to adjustments is just not as good as other Docter scopes, but you do gain the benefit of being able to see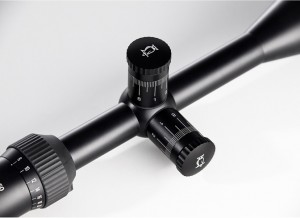 your zero markings from behind the gun.
Not only can you clearly see the markings on the target turrets, but because the magnification and parallax adjustments are on rings that slope towards the shooter, you can clearly see these as well, without moving from your shooting position.
These other rings are also quite coarsely geared for a scope of this price and magnification level. Coarse doesn't mean bad. Coarse means quicker, but less fine adjustments. Whereas finer gearing means more precise adjustments, but long throws, which slow you down.
The scope does, of course, come with all you would expect in terms of ruggedness. Fantastic rubber armour where it's needed, as well as all the usual shock, fog and water-proofing you'd expect in a modern scope.
Overall impression
Overall, the scope is worth the money spent if it suits your style of shooting. It is designed for target shooters, shooting at known distances in variable conditions. If you're after a hunting scope or something to throw on your AR, Docter have some other brilliant scopes for those applications, but this is not the one.
Docter scopes are not easy to find in New Zealand, but Serious Shooters does have a decent stock, Wilhelm Arms may still have some stock if you ask Richard, and there are Australian and European stores that will ship to NZ if you don't mind a bit of a wait.
The 8-25×50 currently retails around NZ$1700, but if you can find it on special, you can usually shave off a couple hundred bucks. For a German quality scope with this many features, you're doing well at a price like that.
If you want a chance to win the scope used in this review, head along to our Facebook page, and also check out the terms and conditions here.