It goes without saying that the Tikka T3 is one of the most popular bolt action rifles in New Zealand. It's loved by hunters for it's simple operation, superb accuracy and reasonable price point. Competition shooters are increasingly turning to the T3 as the basis for customised F-Class rifles and the like. With an abundance of after-market parts and a fairly modular set up, it makes perfect sense as a platform to rival the Remingtons and Howas on the range.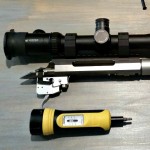 One of the great things about the Tikka T3 is that you don't have to spend much money to make it a good shooter. Out of the box it has its 3-shot MOA guarantee, as well as some included rings and an adjustable trigger.
Common alterations to T3's include the obvious, such as new scopes and suppressors. But others go a bit further with bipods, chassis systems, magazine/floor-metal replacement, etc. One thing that most shooters won't need to change is the trigger. Your top end shooters may opt for an aftermarket trigger, but the majority of us can get away with the factory unit with no trouble.
Trigger overview
Adjustable from 2 ¼ – 4 7⁄16 lbs (10 – 20 N), the rifle comes set from the factory at around 3 lbs ( 13 – 15 N). Some models will allow access to the trigger pull weight adjustment screw through the magazine well once the mag is removed. On others you will need to remove the barrelled action. Even if you can access the screw through the mag well, you may as well take the gun apart, as it will probably be quicker and easier. With only two action screws to remove, it really isn't hard work to do this, and you'll get familiar with the innards of your gun too.
The factory setting is safe and light enough for hunting, however I personally prefer a lighter trigger (around the 2 lb mark). Since I never walk around with a round in the chamber, I don't mind a light trigger from a safety perspective.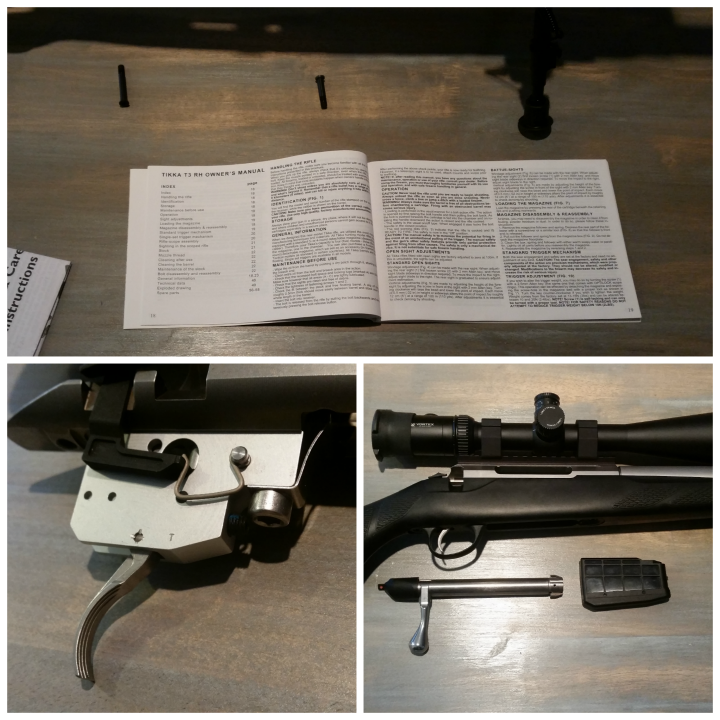 The trigger breaks cleanly and crisply, and many are happy with it without feeling the need to lighten the pull weight. If you're shooting from a bench or mound for groups, you may want to lighten the trigger, as I find even a 3 lbs pull weight can cause you to torque the rifle a bit while pulling the trigger, producing occasional flyers.
If this is your first rifle (good choice!), getting used to a heavier trigger is not a bad thing, as it results in good trigger control practices. If you've got a heavy calibre and you're worried about developing a flinch, a heavy trigger pull can accentuate these tendencies, as you anticipate the break.

In terms of function and looks, the T3 trigger unit is certainly above average for a factory rifle, and many will find it perfectly suitable without replacement. The easy adjustment makes it even more widely appealing.
If a safety is important to you'll probably like the Tikka arrangement. It's a thumb safety which when engaged will lock the bolt in the closed position, the firing pin in the cocked position and will keep the sear and trigger blade from moving. The red indicators for ready-to-fire are pretty clear on the safety and the bolt shroud.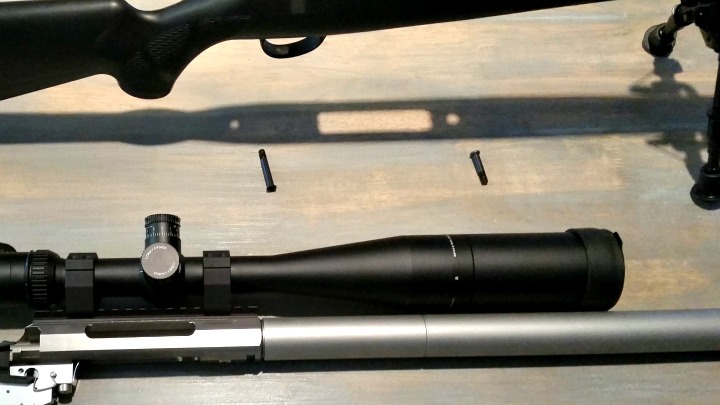 Adjusting the trigger
The trigger pull weight is easily adjusted with a 2.5 mm allen key – the same size your scope rings use. The screw is self-locking, so you'll definitely need the tool to make the adjustment, You also won't have to worry about it working loose. The screw will only move so far in either direction, so it's simply up to you to find the weight you like. If you have the tools, you can even measure your trigger pull weight to be 100% sure. This will also inform future trigger decisions, as you'll know what weights you do and don't like.
The trigger pull weight is the only adjustable part of the trigger, so don't worry about anything else on there. If you are uncomfortable with making your own trigger adjustments, a competent gunsmith is your best friend.
If you need pictures or more guidance, consult your instruction manual. If you bought your rifle second hand, Sako has an online version of their Tikka T3 rifle user manual here. If you do take your rifle apart to do this adjustment, having a torque driver on hand to put everything back together to the correct specs is ideal.