Chassis systems have really come to the fore in the past few years, as tactical and precision rifle shooting has gained a larger following. Throw in lots of product innovation and modularity, and you've got a recipe for success.
There are three rifles that usually get the royal treatment, and have chassis built for them by most major manufacturers. Namely, the Remington 700, Savage 110, and the Tikka T3(x). The Howa 1500 usually features too. If you're looking for a chassis for any of these rifles, you'll have plenty to choose from. Having looked around the market, I decided to to give the TAC21 chassis a go.
The reason the TAC21 really stood out as a potential option for the build I was working on, was that the forend came off as a separate piece, but still had a continuous Picatinny rail. This was particularly important for me, as my Tikka T3 in 6.5×55 has a full over-barrel MAE suppressor that comes right back to the action. It has a 1.26″ OD and would need to be removed after every shoot to get gas residue and powder fouling off the barrel and crown. The TAC21 looked like it was up for the task – and it sure looked a lot easier than taking my rifle out of its standard stock every time I left the range.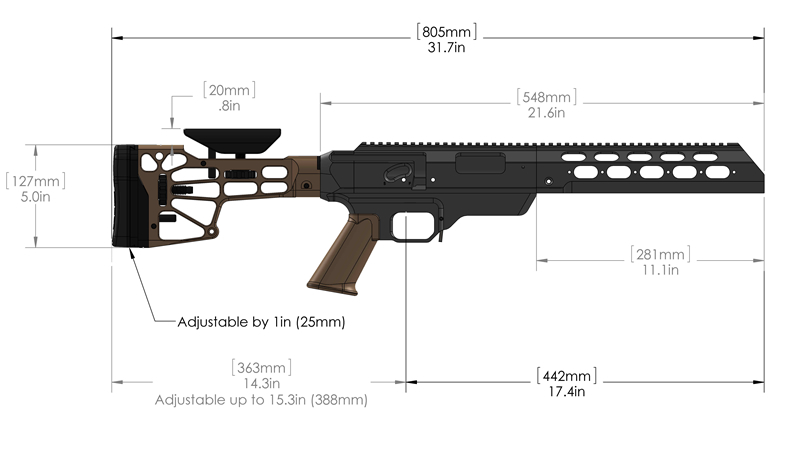 So, after deciding on a chassis, MDT offered us one to review. This is always a good sign – when a manufacturer stands by their products enough to let them out into the wild with reviewers! So, after customising my order on the MDT website, it was time to wait for it to be shipped to NZ.
The agony
Nothing is more painful than having a cool new toy come from across the world, and not knowing when it will arrive!
Compounding my dilemma was the fact that it was a Tikka T3 long action. This meant that standard AICS mags would not work, because of the shorter magazine port. MDT makes their own magazines, in metal. They are Cerakoted the same colour as the chassis too. Unfortunately as I placed my order, they were out of stock and back ordered, so I waited "patiently" as they made up some new ones.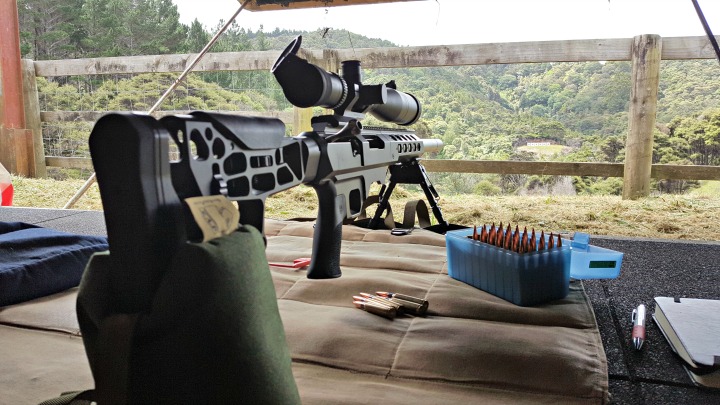 However, this was all mitigated by the fact that MDT's staff are perhaps the best human beings on the planet. I judge a company a lot by how they treat their customers, and MDT tops the charts in my books. The only other company that would share that rank would be Vortex. And when it comes to some of the really big bullet and component manufacturers, I can tell you, your concerns are right at the bottom of the pile with them.
You may think I received special treatment as a reviewer and that my experience is not really a true customer experience. Well, the first person I spoke to knew I was a reviewer – the other two people did not. So, I'm comfortable standing by the statement above.
The best day, was when I inquired after progress on the mags, and was told they were a few weeks out still. How was this the best day? The kind lady at MDT offered to send my entire order ASAP, and then expedite the magazines to me when they were available, at no charge.
To which I said 'Yes'. Very much yes.
I really wanted to give this chassis a thorough testing, and I didn't mind single-loading for a month or so if I had to. And I'm glad I did, as this gave me a chance to work through some of the unique aspects of the system, and also take it along to some cool events, such as the Long Range Fundamentals course with Kerry from Precision Shooter.

First impressions
I cannot overstate how excited I was when I opened my package from Canada. But I unfortunately couldn't use it straight away, as I was sighted in and good to go for my first F-Class shoot. After I attended that shoot with the Franklin Rifle Club at 600 metres, I got home, stripped and cleaned the rifle, and got busy putting it into the TAC21 chassis.
The first thing I noticed was that the solid aluminium chassis and Skeleton Rifle Stock added a good deal of weight. This was ideal for my purposes (an F-Open build), where extra mass means more stability and less felt recoil. If you're after a lighter chassis system, for more run-and-gun shooting sports, look at the LSS or HS3 chassis by MDT – many of the same benefits as the TAC21, but much lighter by design.
Assembly
I won't go through how to assemble the product – it's pretty easy, and there are step-by-step instructions included. There are also some Youtube videos out there if you're a visual learner.
While I was putting the rifle together I immediately noticed a few points. This chassis is not carelessly designed. There are some very obvious cutouts and reliefs specifically for my Tikka, where a Remington or Savage would have a different layout (bolt stops, safeties, etc.). Instead of finding a way to cookie-cutter design this chassis, they designed it around the actions they wanted to house, and did so with a high degree of accuracy and utility in mind.
The safety is easily accessible, and there is nowhere for the bolt to hang up. The bolt stop/release has its own little slot in the aluminium housing (they provide a longer retaining pin for this), and there's even a window cut into the side so you can see your serial number. That last detail impressed me as an extra little bit of thoughtfulness.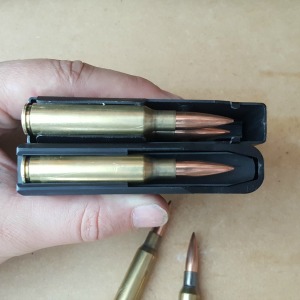 Other things to note… The Tikka's free-floating recoil lug has just been upgraded for you. The chassis comes with a steel lug, that is far superior to the soft, aluminium one that comes standard on the T3. You're also completely replacing your trigger guard and mag well, so this means you can't use your factory mags. This is no problem though, as the factory magazines are always too small in capacity and never long enough to load out to the lands for you reloaders.
The MDT Tikka T3 LA magazines are solidly constructed out of steel, and designed for cartridges up to .300 WM. You can bend the feed lips to suit your round. I lightly bent the lips on my two magazines to get a grip on my 6.5×55 cartridges. I could have bent them over a bit more, but I found them tight enough that nothing would knock the rounds out unintentionally, and I could get 6 rounds per mag instead of 5. This is ideal for the F-Class shooting that I've been doing, where you shoot your 24 rounds in 2 details of 10 scoring shots and 2 sighters. This means only one mag change per detail, rather than the four mag changes I was having to do with the factory magazines.
The forend snugged up nicely to the body of the chassis – the offset screw holes helping to lock it in place. The rail on top truly was continuous, with perfect machining. The attachment of the forend is one of only two improvements I could think to make to this design.
The screw in the top rail could be hard to get to, depending on your scope/mount situation. I actually found I could just clear the scope with an allen key and remove the forend when necessary. Although most shooters would not need to remove this piece as often as I would, to clean under the full suppressor.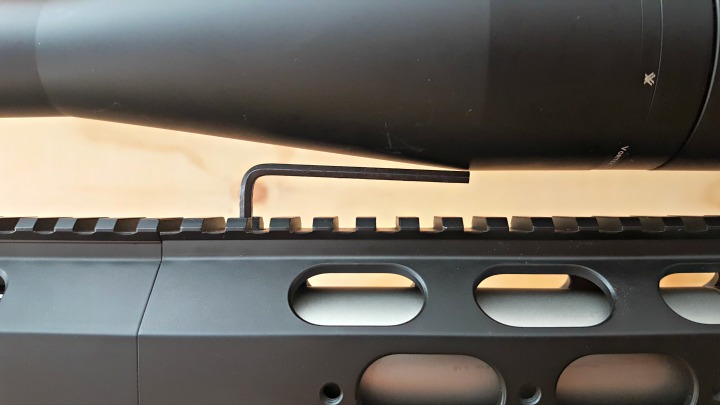 I would perhaps have done two screws on the diagonal sections between the rail (top) and the sides, rather than have the screw on top. I would rather have four screws to undo, than potentially have to take off my scope if I needed to work on the barrel exterior. However, I am no engineer, and aside from the extra labour and materials that would be required, I couldn't tell you if my idea for fixing the two pieces together is anywhere near as good as the original design (in terms of robustness, etc.). So, a grain of salt and all that.
The other thing that I think would improve this design (for the Tikka shooters amongst us), would be replacing the bolt stop/release with an aftermarket one that sticks out further. It can be a bit finicky to get the bolt out, but certainly not to the point where I would say it is a flaw in the design. Just an area that could be improved – and perhaps this is an area for the end user to look at.
The Tikka T3 bolt stops differ from calibre to calibre. This allows to Tikka to produce a more uniform action, cutting down costs. I imagine it would be quite an undertaking to design, make and stock all of the possible options. However, if you look around, some machine shops and gunsmiths do make aftermarket versions out of steel or what-have-you, so it could be something to look at if you have fat fingers like me.
Breaking her in
This rifle has become my main centrefire rifle over the past few months, and I've enjoyed every minute of it. I did have some frustrations at the start, and we'll go through how to avoid these yourself.
Scope mounting. If you have a large objective lens (which you likely do if you want a chassis for your shooter), it will not clear the full-length rail on short or standard rings. Unfortunately my Vortex precision-matched rings were 1mm too short to clear the chassis, so I hopped onto the Optics Planet website and set about ordering a one-piece riser, to get some more height.
I was told the riser I wanted was considered an AR-15 part, and therefore couldn't be exported from the US. Annoying, but rules are rules. They gave me a couple replacement options and I went with a pair of quick detach risers (ironic, as these seem much more suited to an AR, but anyway).
So, I mounted my Vortex Viper PST 6 – 24 X 50, and hit the 100 metre range at Waiuku Pistol Club. I almost cried. My rifle, which was shooting handloads into 0.2 MOA groups was now double grouping and doing just under 1.5 MOA. I felt sick to my stomach at the thought of having to do this review, with such a negative result.
After burning through around 50 rounds of pricey handloads, hearing comments like 'shooter error', I was ready to go home. I took the chassis apart to wipe the barrel down and noticed the QD riser at the front had worked loose, and must have been shifting back and forth a minuscule amount under recoil. Feeling like an idiot, but a hopeful idiot, I went home to reload some more rounds and hit the range the following weekend.
Thankfully I have a 2-inch offset cantilever ring mount, provided by Vortex for an upcoming review on their Strike Eagle scope. I switched this in and patiently waited another week to get to the range. With the cantilever mount, the centre of my scope now sat about 2.5″ above the centreline of my bore. Not a major problem, except this will accentuate any user error involving cant. I would suggest getting a bubble level to ensure vertical alignment to the target. If you're into long range shooting, you probably have one already.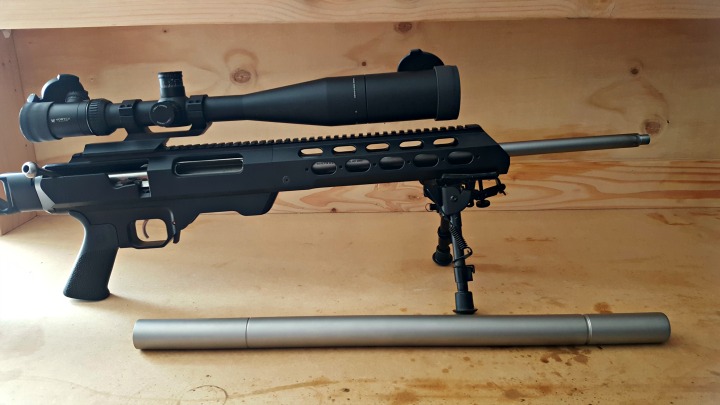 Another almost negative was that I found the latch that secured the Skeleton Rifle Stock to the chassis to be very stiff. I spoke to MDT and sent them some photos, of where paint had scraped off the housing for the latch's retaining pin, indicating it was having trouble camming fully over.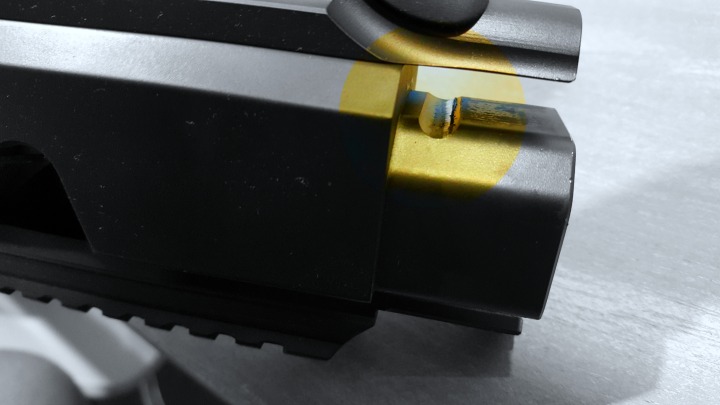 The MDT staffer said that a break in period could be expected, as the part was machined to tight tolerances to ensure a tight fit for the life of the rifle/chassis. He offered to send me another latch pin, free of charge, so I could polish down my current one, and use the new one after it had broken in. I said thanks, but no thanks. It wasn't worth wasting their time and money if it was such a simple solution.
To 'speed up time' with my break in period, I gave the latch a couple hard taps with a wooden dowel and a rubber mallet. It now works perfectly.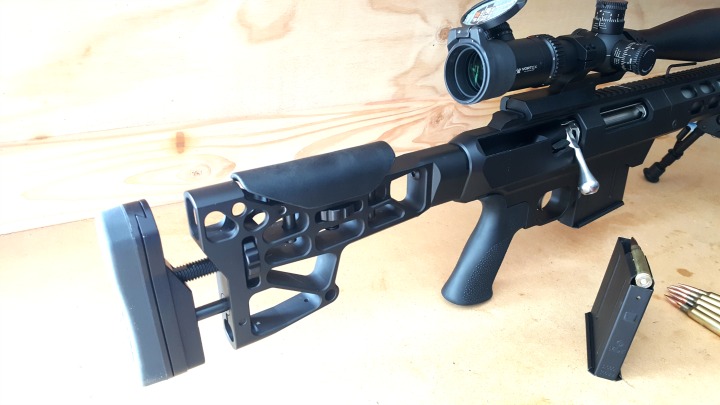 Findings
The TAC21 is designed to take your rifle from factory to precision with very little effort. Bedding is one of the most important aspects of increasing the accuracy of a rifle, and MDT makes this easy. The action only touches the V-bedding in a few spots, and with incredible repeatability and sturdiness. The forend leaves your barrel completely free-floating, for any barrel less than the diameter of the action.
If I had started with an out-of-the-box rifle with factory ammo, I would have expected to see dramatic gains in accuracy. MDT claims up to 28% increase in accuracy, and I can believe that, looking at the design.
Taking an already accurate rifle and putting it into the TAC21 chassis system, what I was looking for was accuracy (repeatability of shot placement – not smallness of group size).
With scope now properly mounted, I was surprised to find there was hardly any POI shift from the 20 MOA Nightforce rail that was mounted to the Tikka action, to the 20 MOA rail integral to the action housing on the MDT chassis. It was literally a couple of clicks to get centre at 100 metres.
With factory ammo, I noticed accuracy was perfect. I had my doubts and expected I might get some shift in POI due to the optic being mounted to the chassis and not the rifle, but the repeatability was there. I had less than a full box of Norma ammo, so didn't do too much grouping, but did notice a decrease in group size as well, by about 0.1 – 0.2 MOA, down to an average of 0.7 MOA.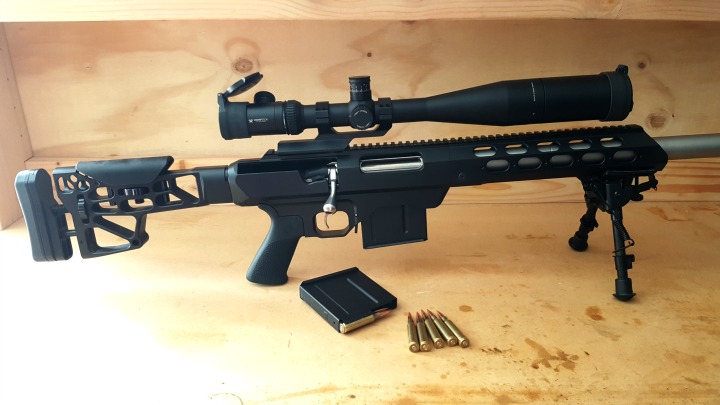 My personal handload featuring Norma brass, 143 gr Hornady ELD-X projectiles, Federal Gold Match LR primers and ADI AR2208 powder (Varget) was just as repeatable.
As I mentioned before, repeatability was the test here, not smallness of group size. My handloads were tuned specifically to my rifle as it was, and this testing was done with the exact same load, with no further adjustment. It wasn't shooting 0.2 MOA anymore, but it was shooting a consistent and repeatable 0.6 MOA.
Why did my handload group size increase, while the factory ammo groups decreased in spread? I suspect the bedding of the rifle worked its magic on the factory ammo, which is made to much lower tolerances than my reloads – and therefore could really benefit from the improved bedding.
I suspect my handloads increased in group size because the tension on the action has changed – almost double the torque to secure the action to the aluminium chassis, compared with the factory plastic stock. I imagine this has changed the harmonics somewhat. To reduce my group size again, I could either move my charge weight up or down a small amount, or I could play with seating depth.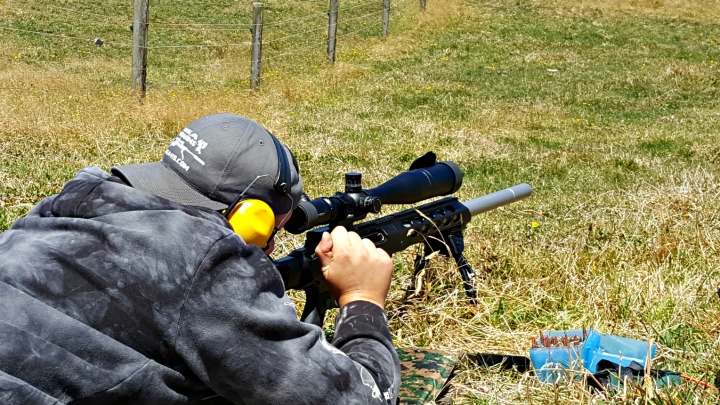 The latter is now a much more distinct possibility, as I have an extra 1.5mm of mag length to play with. I hope you haven't got this far into reading this (fairly lengthy) article, and believe the increase in group size is an indication of negative performance on the part of the TAC21 chassis. As mentioned above, this is purely a function of my handloads being tuned to the rifle as it was.
With a bit more time to play around, I expect I'll get this rifle back down to its 0.2 MOA capability, while enjoying the modularity of the rifle and ergonomic bliss that comes with having the action and butt stock inline. Just quickly, these are the features that I really like about the MDT TAC21:
V-bedding block for increased accuracy and decreased points of contact
Thoughtful design
Included recoil lug
Straight-line design to absorb felt recoil and decrease muzzle flip
Full length top rail – 20 MOA too!
Plenty of places to add a Magpul rail or two for your bipod, monopod, laser, printer, coffee maker, whatever…
Sling swivel stud included for bipods, but easily removable for rail mounted varieties
Excellent finish of hard anodizing plus Cerakote in your preferred colour – I had no marks on the stock after months of use, except for where the QD riser was loose on the top rail, and a couple points in the butt stock attachment area, that are not visible anyway when the rifle is assembled
Huge tolerance for barrel size, meaning you can have straight no-taper barrels, massive muzzle devices, whatever you want
Decent amount of weight for prone shooting and recoil reduction, but light enough to lug around a bit if necessary
It looks fantastic, and your factory rifle can play with the RPRs and HCRs and whatever else is on the firing line
Better magazine options
If you want any more convincing, head along to the MDT website and check out the customer reviews for this product. You will see exactly what I have experienced. Great product, fantastic service, and an all round improvement in your rifle.