It's an unfortunate fact of life for reloaders – at some point, you'll need to pull bullets and start again. For me,this happened recently when I made a mistake with my mechanical scale while reloading for 6.5×55. I was tossing up between a press mounted bullet pulling die and a 'hammer type' inertia puller, when my mind was made up for me.
As often happens when you're at your local gun store, you see something that you've been meaning to get for ages. For me, it was a bullet puller (as well as some dies, a cleaning rod, solvent, shell holders and more, but hey…). My initial leaning towards an inertia bullet puller was (typically) the cost saving. Most hammers are able to handle a huge variety of calibres, while a bullet-pulling die requires a collet for each calibre you're pulling.
When I saw the Lyman Magnum Inertia Bullet Puller under the glass counter, the decision was made. Most of the impact-type pullers I'd seen did not cater for larger rounds like .416 Rigby or .338 Lapua Magnum, or even Winchester WSMs or Remington Ultra Mags. According to the packaging – the Lyman does! While I didn't need to pull a big game magnum round any time soon, I liked the idea that I could if I really wanted to.
Putting it to the test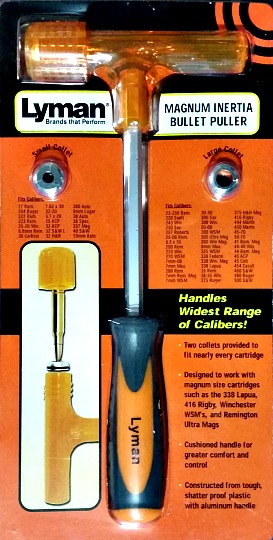 Well, how did it work? Simply and easily. I did make a simple mistake, which I'd be remiss not to share. I didn't want to mark the plastic of my brand-new-hammer-looking-thing, so I started rapping it on a piece of timber. No dice. Then on a laminate bench. Damn… That bench top now has a massive bulge in it from being hammered into oblivion with no bullet-pulling success.
Resigned to the fact that I had made a dud purchase, I gave it a few quick raps on the concrete floor, and lo-and-behold – success!
The long and short of it
Using the Lyman bullet puller is extremely easy. It covers just about every calibre you can think of and is a cinch to use. You simply select one of the two collets, depending on the calibre you are dealing with. You slip the loaded round into the collet so the rounded edge is facing the primer end. It will sit nicely in the extractor groove.
The next step is to put the loaded round in the body of the hammer, while the collet keeps it suspended. Screw in the retaining cap and give it a few good whacks on some concrete or something to separate your ammunition into powder, projectile and primed case. I found the end cap could come a bit loose, which may require tightening after a couple blows – not a big deal really.
The instructions are on the packaging, including the size of collet you want for various calibres, so the whole process really is super easy.
I don't like pouring powder back into the container once it's been loaded for a while. No particular reason, I just don't. I prefer to know the powder I'm using is 100% what it's supposed to be when I'm loading fresh rounds. So, for that reason, powder from pulled rounds gets put straight into the hopper and used for plinking ammo. Or, if I have another jar of powder that is almost empty, I'll put it in there and use fresh powder from a new bottle for my target loads.

The bullet itself is obviously reusable. The primed brass is too – unless, you are taking your round apart because of an issue with the primer. Now, do not try and decap an unfired primer. I shouldn't need to explain this, but it's basically crushing the primer from the anvil end – which will make it go bang. Not fun for your decapping pin. Not fun for you. The best way to get a primer out so you can reuse the brass is to fire the round in your rifle. You can simply load the primed case into your gun and pull the trigger (outdoors, with the muzzle pointed a safe direction – i.e. the same way you would treat it if it were a normal round). Now you can decap.
What you shouldn't do with an inertia bullet puller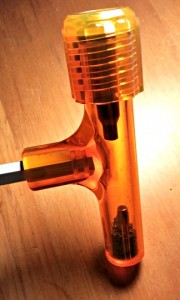 Lyman recommends on the packaging to not use the product without safety glasses. There's not much danger in it, but you can guarantee that if anything is ever going to go wrong, it will be the one time you're not wearing protective gear. So, as with your regular reloading (because you're working with explosive components), chuck on some safety glasses.
You should never try and pull bullets from rimfire ammunition. It will go bang. You will regret it.
You shouldn't expect perfect bullets if you're using projectiles with plastic tips. Kerry from thebloke.co.nz tells how his Nosler Ballistic Tips were damaged when using this exact same puller. Bear in mind, when a bullet is moving at supersonic speeds, there is a cushion of air in front of the projectile, which means slight deformities aren't the end of the world. This is why hollow points aren't less accurate than FMJs. They are often more accurate because of the weight distribution.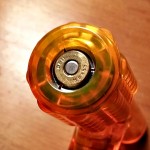 That's the theory behind Sierra Matchkings anyway, and it seems to be working well so far. So, while I wound't mind if my lead- or plastic-tipped rounds got a bit of a crumple in them, I wouldn't use them for target loads. Repeatability leads to accuracy. I would use rounds like this for hunting at normal ranges or general plinking or practice – they'll still do their job and expand on game.
If you are concerned about the condition of the your match rounds or long-distance projectiles, a press-mounted bullet puller might be what you're after. However, I have used the Lyman puller for SMKs, and it's worked out just fine, with no damage to the projectile tip that I can see.