Just how important is accuracy in reloading? Well, it depends how accurate you want your rounds to be. The key to achieving consistently good rounds is removing every source of variance possible – you are going for repeatability. In other words, to get your bullets in the same hole every time, you need to make sure that all  the variables that go into making them are as controlled as possible.
Match vs. Plinking ammo
If you're reloading ammo to burn at the range, you can afford to take a "set and forget" approach to your reloading. Once you have your powder trickler set to the right volume, you should be getting fairly consistent charges. You'll also only need to measure your COAL a few times to ensure that the rest will be coming out the same. This is good enough for general ammo production, and will be as good or better than factory ammo at a third of the cost (depending on your components, etc.).
However, for match ammunition or for working up a load for a new rifle, a lot more precision is required. I tend to weigh every charge on a scale before seating the projectile. Every round is exact. If it's not, I pour another charge and start again. Because the powder trickler goes off volume and the scale goes off weight, some standard deviation is to be expected.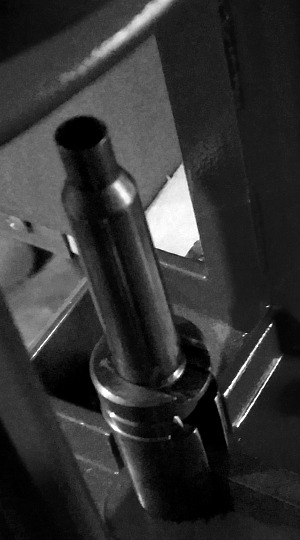 I also measure the COAL of every single round. Not because my settings have changed, but because slight variations in even the most expensive bullets do happen. Those that aren't exactly the same get pulled or used for target practice. Why be so pedantic? Because we're eliminating every possible variation to make sure our ammo production is as uniform as possible from round to round.
I know of people that do this to the extreme. The weigh every bullet they use. They have a log for every casing, rejecting ones that produce inferior accuracy due to differences in metal hardening or other aspects that are beyond the average reloader's comprehension. This is for the accuracy fanatics. And more power to them, but I enjoy a fine level of accuracy for the amount of effort I put in. It's each to his/her own. If I had to be as pedantic about my reloading, I probably wouldn't enjoy the actual shooting as much. But everyone is different, and for some of the shooting fraternity, ultimate accuracy is the ultimate goal.
A proper work space
Whether you're reloading for 3-gun, varminting or 1000 yard shots, one thing's always necessary; a properly prepared working area. A space that is free from clutter, mess and distraction is essential.
Before I learnt this lesson, I'll admit I knocked over a few cases full of powder and so on. Everything should have its place in a reloading station. A good example of how much your work area affects your ammunition production is a mistake I made a few days ago…
Working up a load I was preparing six rounds at 1-grain intervals to take to the range. With six different charges, that's a total of only 36 rounds, but there's a lot of finicky business around getting the charge weights right every time. About half way through I move my scale from one bench to another to make room for something. Once settled on the other bench, the charge come up at a different weight.
Now this wouldn't be a problem if I was using a digital scale, I would be able to hit TARE and know I was working with a clean slate. However, with my mechanical scale, things aren't quite so simple. The difference in weight readings was because my bench was on a lean… Something had got under one of the legs and was causing the weight on one side of the scale to dip down. The difference was about 1.2 grains. Yup, I just painstakingly produced about 18 rounds that were completely useless because I had no idea what the actual charge was.
Not the worst set back in the world, but a good lesson to learn – always prepare your space thoroughly before starting your reloading procedures.