As somebody who spends a fair bit of time behind a scoped rifle, let me say, aiming "without looking at the gun" is a real challenge. As my wife and I set up to try our hand at down the line (DTL) trap shooting, Andy – our supervisor/guide/instructor through this process – informed us that the way to successfully shoot clays moving at 45 kph is to not aim the gun. Yup, don't aim he said, or you'll stop moving in line with the target.
The Waitemata Clay Target Club
Firstly, let me put this out there, as far as gun clubs in New Zealand go, this is a sleek organisation. They have a nice website, excellent facilities and a club room that would make you think of a golf course, rather than a shooting club.
There are a few different positions to shoot from, a patterning board and even an Olympic trap facility. What's the difference with the Olympic version of the sport? More than triple the speed – 140 kph, and a greater variety of directions the clay pigeon could shoot off into.

Back to the club. It's about 25 or 30 minutes from the centre of Auckland, and took me around three-quarters of an hour from East Auckland. It's conveniently close to the Hallertau Brewery, if you wanna grab a bite and a beer (after you shoot). If you're familiar with the NZDA Auckland branch, it's just round the corner from there.
There's ample parking and you don't need to trek through bush or anything. It's a very accessible club all round.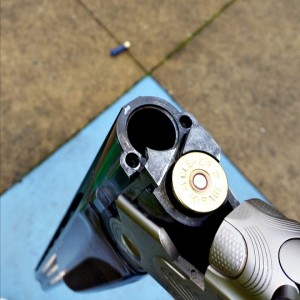 Shooting DTL Trap
As I mentioned before, shotgun shooting apparently just doesn't come naturally to me. Although, I've got to admit, it sure was fun. The five positions you shoot from all have a mic that picks up your command to "pull", releasing a clay. Aiming at the top of the trap house or just above, you try and move your head (and the shotgun which is welded to your cheek) along with the clay as it appears – not aiming, but simply following the target. Pull the trigger when you're ready, and that's all she wrote.
The mic can be set off by the loud 'clack' of pump or semi-auto shotgun, or people nattering away about how their last shot went. Because there are a limited number of clays available to shoot, this can be a bit frustrating if some are wasted by chatter and loud actions.
There are five different shooting positions with a shooter on each. After a shooter takes their shot, they break open their gun (or open the action on semis or pumps), and the next person loads, ready to call for their clay. Usually after five rounds, the shooters rotate to the next position, although we didn't go through all the rotations on our first go.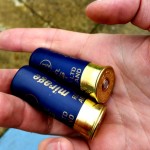 The guns provided to us were very nice looking Beretta under and overs, and they shot like a dream. There were no malfunctions of any kind, and they were smooth and easy to operate. The Clever Mirage trap loads were light and didn't leave us feeling bruised and battered at the end of the day.
The overall cost was not too much, considering all that is provided. For $52.50 each we got range fees, gun hire, a box of ammo each (25 rounds), 25 clay targets and some ear plugs (we forgot our hearing protection at home – although even with ear plugs, it was absolutely fine). Considering it's a good afternoon's entertainment, it's well worth it – especially if you haven't tried it before. And, speaking to Andy, it's apparently much cheaper to shoot once you become a member. However, there is the high cost of trap or skeet shotguns to consider. Although, for the beginner, a cheap semi-auto will get you going.
For those that are interested in a casual shoot, check out the Waitemata Clay Target Club range calendar and call ahead if the weather is foul. The club rooms are easy to find and there's a nice big sign on the road – you'll find it easy enough.
At the end of the day, if you're into your shotguns – this is something you should definitely try. For those that haven't ventured into other shooting sports, it's worth giving it a go. You never know, like my wife you may have a natural ability for reactive shooting.