The SKS is one of very few semi-automatic centrefire rifles that allow for cheap and cheerful shooting in New Zealand. The rifles themselves are amongst the cheapest autoloaders around and the steel-cased ammo is a bargain compared to other centrefire rounds, as detailed in a previous post on the venerable 7.62×39.
However, what about reloading for the SKS or an AK? is it worth it? Every armchair shooter in the world will want to quickly chime in on why it's simply not worthwhile reloading ammo for these rugged rifles. Here's my take on it.
You will lose some brass
There is no question about it. With almost any semi-auto rifle, you should be prepared to lose a few casings. Even bolt action rifles in military service rifle matches will sacrifice some brass here or there for the sake of speed. But the SKS really loves throwing brass away. The video below perfectly illustrates what I mean.
However, even with the brass being flung in every possible direction known to man, you will still get a healthy return if you have patience (and the grass isn't too long). The majority of your shells will land between 1 and 3 O'Clock, within a few metres of your shooting position – but not all of them. On my last trip to the range I shot some brass-cased PPU with some friends, and we recovered 55 out of 60 ejected cases. That's over 90 per cent of your brass coming back to you – not bad.
The other option is to have a brass deflector or catcher attached, but these render your rear sights useless. Therefore, this only really becomes possible with a scoped SKS, which, as we all know, is not the most worthwhile pursuit in the world.
You will damage some brass
Again, this is a given. Autoloaders are hard on brass and the SKS is no exception. There are extractor marks from rough ejection, and if you're shooting over a concrete floor, under a roof or near any kind of structure, chances are your brass will hit it and could possibly get dented.
At the end of the day, a small level of attrition is to be expected – it's the cost of doing business with the SKS or an AK.
It is not a super-accurate rifle
Look, handloading is not going to turn your 1 – 3 MOA SKS into a 1/2 MOA super rifle. It just won't. Usually handloads can be made to be incredibly accurate, and this works because you develop ammunition that is suited to your rifle's chamber. The SKS is an intermediate-cartridge fed battle-rifle with very loose tolerances, which aid its reliability. Remember, cheap, reliable, accurate – you only get to choose two.
If you're reloading the 7.62×39 for a CZ bolt action or a  modern semi-auto, then you're talking about a whole different ball game.
The economy isn't quite there
The price of 7.62×39 ammo means it's not really worthwhile buying brass-cased stuff, plus your other components and dies. It will end up costing about the same in the long run, and your accuracy won't be much better.
Generally speaking you can pick up steel-cased ammo at one of the major gun stores for around $16 or $17 per 20 rounds. If you buy in bulk, you can save a lot more too. Realistically, if you're cost conscious and like doing a lot of shooting, buying in bulk would be a better solution than reloading. Plus, who doesn't like opening the safe and seeing a wall of ammunition?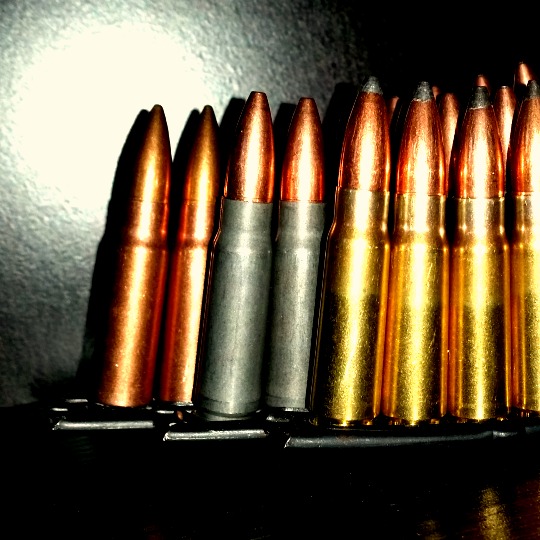 But I'd still do it
However, I'd still do it. And the reason is, because I enjoy shooting and I enjoy reloading. Brass cased ammo costs $8 more per packet (if you know where to shop – $15 if you don't). When thinking about the cost of the brass, I account for the fact that I get the value of one factory pack of ammunition regardless. In other words, the brass is costing me $8 per 20, even though the pack of ammo costs $25, because I shot $17 worth of factory stuff. I say $17 worth of shooting, because that's what a box of Tula SPs would set you back.
So, I can expect to retain about 18 cases, and I might get 5 or so reloads out of them. Throw in the cost of primers and powder (which I use for other loads anyway), and projectiles. Now, this lot I'm going to reload with Hornady's Z-Max. In 7.62×39 the Z-Max is a SST projectile, with a different coloured tip according to Nathan Foster – whose research I would definitely rely on.
Why the Z-Max? Firstly, let's be honest, a green-tipped bullet kind of looks cool. But also, as Nathan's research suggests, the SST or Z-Max round is probably one of the better choices of bullet for what the SKS is designed to do – wound effectively within a limited range. I could save a few cents per round by going for a soft point projectile from another manufacturer, but I'm keen to give the Hornady bullets a whirl.
As for the cost of the dies – well, hopefully that gets absorbed over time. If not – I'll just have to shoot some more until they've paid for themselves.