Firstly, where the hell did March go? Between shooting events, reloading, work, and an overseas holiday, I can't say there's been very much time to write anything. However, I did make time to attend Precision Shooter's inaugural PSNZ22 practical rimfire shooting event.
Remember that horrendous rain and flooding we had a few weeks ago? Yes, we were shooting in that. I have never shot in such wet and miserable conditions in my life – and it was great fun! Being RO for our detail of 6 also presented its own challenges in the rain (i.e. keeping scorecards dry – which didn't happen).
The test shoot
I was lucky enough to be invited by Kerry Adams to the test shoot a month prior, where we shot the course and provided feedback for the competition proper. It couldn't have been in more different conditions. I walked away dripping in sweat, and completely sun burnt, but having had a great time.
I shot the test shoot with my bolt action Norinco JW-15 in a Boyds Pro Varmint stock, topped with a 6.5-20 x 44mm Weaver 40/44. The stock was great, and I was glad I had a bipod, as I used this to lean on fences and obstacles (even when folded), which avoided damage to my rifle. I also used one leg folded out as a foregrip on the tank trap and barricade obstacles with great success.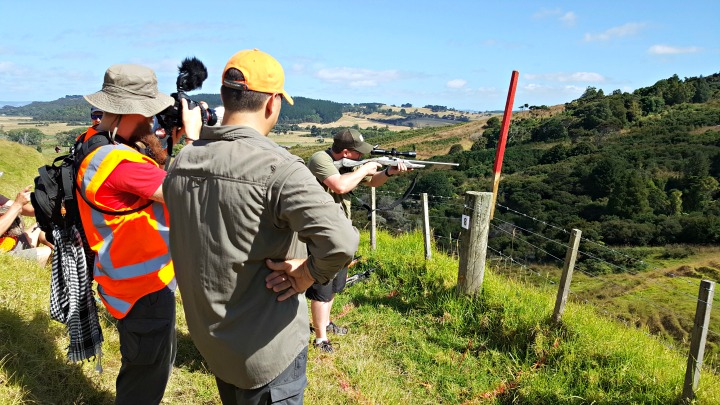 The scope was an interesting choice – but the only one I had on hand at the time. The course was not designed for taking wind and dialing elevation – it was designed for holding over and snap decisions. With a duplex reticle and capped turrets, I was going to have a hard time.
So, what I did was sight in at the range  the day before at 75 metres, and figure out my drop to known ranges of 50, 75, 100 and 150 metres. I did this by firing a group at a target at the known distance, and then using the magnification to zoom in or out, until one of the posts lined up with the group. I then tested the holdover and it worked fine.
This was far from ideal as I shot 50 m targets at 20x and 150 m targets at 6.5x. The latter is fine, but shooting close targets at high magnification while moving around is pretty difficult.
If you have a FFP scope, or a reticle with drops that you know at each magnification setting, then a magnification range like this is not the worst idea.
The test shoot was a success, and we provided Kerry with our feedback, which we were happy to see was integrated into the final course. The feedback was around timing, clarity of course of fire, etc. In other words, exactly why you have a test run.
PSNZ22
The day of the shoot we all came prepared with wet weather gear, wondering if it would be called off. Spoiler: it wasn't.
Although it absolutely bucketed down, we never got to a point where it would have been unsafe to continue. The only thing the rain affected was how we carried and covered our equipment and rifles, and again, the score sheets got soaked, but each team came up with a way to keep track of their scores.
I was highly impressed with my equipment. I shot with a different set up this time around. I had an HK 416 D145RS .22LR, topped with a Vortex Strike Eagle 1-6 x 24mm with AR BDC reticle. The HK, manufactured under licence by Carl Walther, stood up to some serious abuse. I had only shot it once prior, which was the day before, when I tested ammo and sighted in. After chowing through 300 odd rounds of eight different types of rimfire ammo, I found CCI Standard to shoot very well and Winchester Target 22 shot almost as well. Hey, if the best ammo happens to be the cheapest one tested too, who am I to complain?
Both of the above brands shot less than an inch at 50 yards, off a bipod, with the butt stock unsupported. The CCI was closer to 0.8 inches.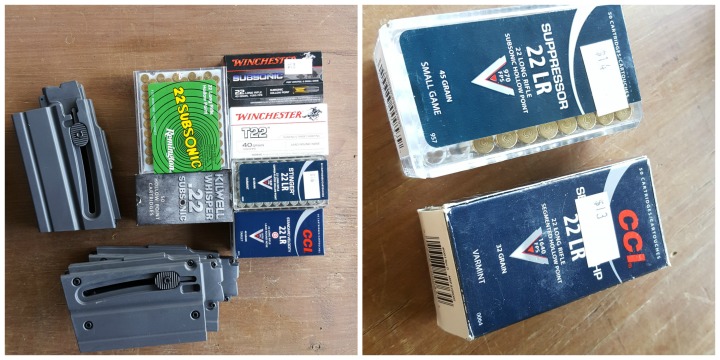 I didn't clean the rifle thoroughly after testing, but ran a bore snake through twice, with a few drops of Hoppes No. 9. Generally speaking I leave a rimfire rifle for 500 – 1000 rounds before cleaning the barrel (or as soon as I notice accuracy starting to drop off). However, with a brand new rifle I didn't want to take the chance.
I missed my cold bore shot on the first target, which was extremely disappointing, as it was worth 5 normal shots. The gun walked on to target within 5 rounds as the match grade barrel liner leaded up nicely. I shouldn't have run the damn boresnake through. The course was roughly 90 rounds over about 4 – 5 hours, and even though the rifle was exposed to pouring rain almost the entire time, it never jammed once. The blowback mechanism did a fine job, and the magazines held up well, feeding reliably, and remaining super easy to load, thanks to the tabs on the side which hold down the spring and follower.

The scope performed beautifully. The AR BDC reticle is designed primarily for .223 Rem ballistics, and lines up nicely with average loads. It's also pretty good with a .308 as well. To use the .22LR I used the Vortex LRBC to enter the data for CCI Standard ammo.
I did a different reticle print out for each magnification setting, and confirmed these at the range the day before. For some shots I used the full 6x magnification, but for most I used the 4x, as with a zero at 50 metres, I had convenient holdovers at each hashmark that approximated 75, 100, 130 and 170 metres.
This scope was way easier to use, but again highlights the need to either know your magnification, ranges and subtensions, or use an FFP scope for field shooting.
The only equipment failure I had was when my rail-to-stud adapter crapped itself, and my bipod fell off on the tank trap stage. I was annoyed, but it didn't slow me down too much, and really, the rest of the shoot went fine. I went into Serious Shooters the other day to get a replacement (turns out the hole in the stud was a bit low, and the radius on the stud a bit high/wonky). They sorted me out with another stud, so that's all good for next time.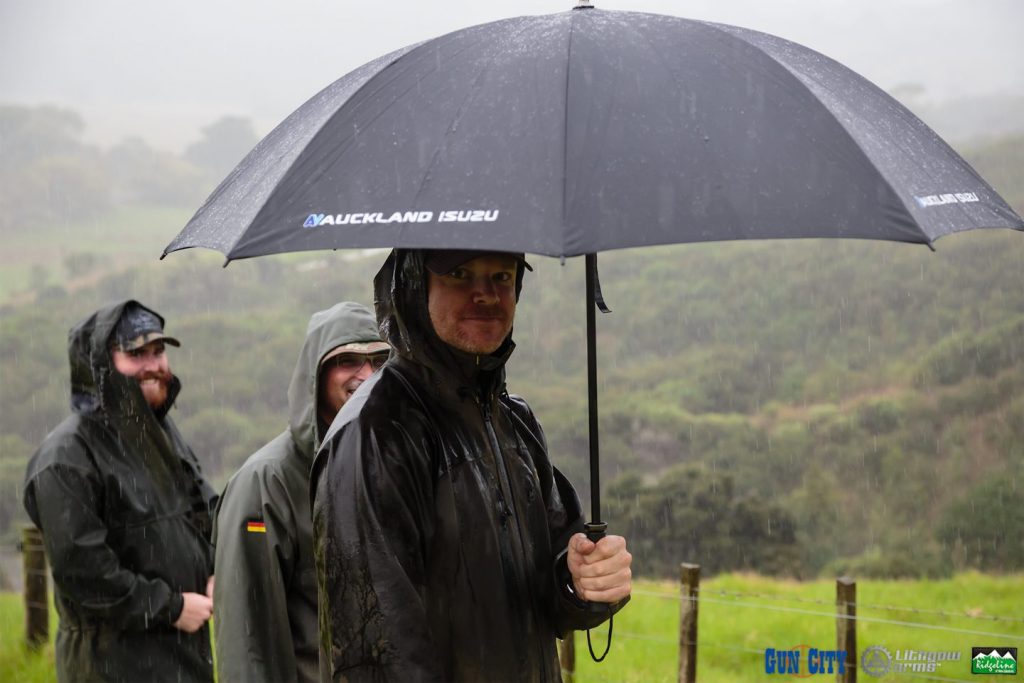 The course was innovative and challenging, and kept everyone moving along at a reasonable pace. Some of the running stages highlighted how unfit we were, while the fine wording of the Course of Fire was tested by some of the more competitively natured among us. The obstacles and shooting parameters were a good test of skill, as shown by the vast range in scores at the end of the day. My advice – slow down. Finishing a stage with 15 seconds to spare doesn't mean squat if you miss 4 or 5 shots (yes, that was me…).
The wet weather slowed us down a bit, but we reached the end of the course eventually. I came in around the middle of the field, which I was okay with, with a new rifle and a different style of shooting. As the scores were being tallied, the prize draws began.
Ridgeline had already provided every single shooter with a pack of goodies, including bright orange blaze gear for the ROs. In addition to these packs, they provided some awesome prizes too. The real draw card of the day was a Lithgow LA101 Crossover, which was done as a random draw. After the main event, shooters raided the table for swag from Ridgeline, Auckland Isuzu and Gun City (including $50 vouchers – thanks!). The Gun Rack proudly supplied some ammo as a prize.
The top shooters on the day were Hennie, Shane and Simon Gillice, with a tied first place, and only one shot making the difference between tied first and coming in third. If I recall correctly, all placing shooters used a bolt action rifle (I could be wrong, but I'm pretty sure!).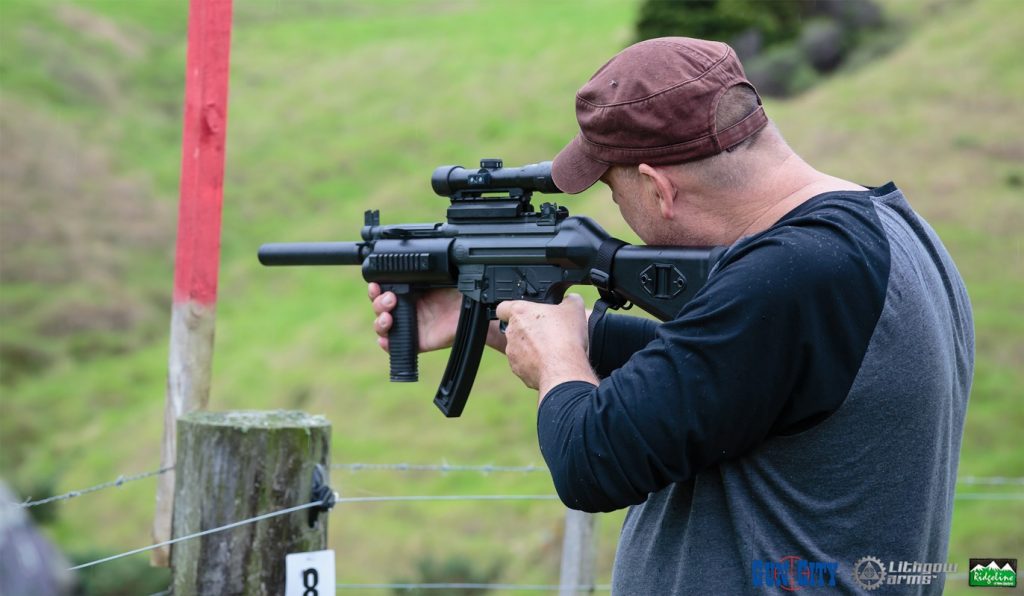 The day was a great success, and Kerry and the team who put it on deserve all the thanks and congratulations they received. It was an excellent time, ringing steel in the rain with inexpensive ammo and lots of good banter. The pub afterwards was full of stories from the day, as well as general shooting chatter and hunting stories, as you'd expect.
Hopefully the next one is not too far away, so keep an eye out on The Gearlocker website, and subscribe to their newsletter for regular updates!
Feature image credit: Precision Shooter