In a market saturated by black rifle parts and accessories, is there room to stand out? The Vortex Strike Eagle has been around for a couple years, and it has certainly carved its niche in the landscape of optics for the ubiquitous AR-15. So, what sets this scope apart?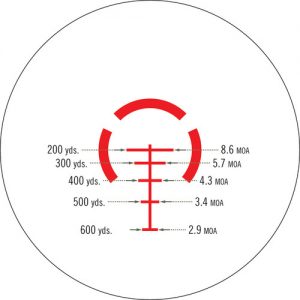 The reticle
Really, to gain traction in the glass game these days, you need to be offering innovative sighting systems. It wasn't too long ago that grid reticles weren't even a thing. Now, most long range shooters wouldn't look past them for practical or tactical style shooting competitions. With the Strike Eagle, Vortex went the other direction, tending towards the simple and easy to use.
The AR-BDC (AR Ballistic Drop Reticle) is designed to give easy elevation holdover using common .233/5.56 loadings. With a 50 yard zero, the crosshair is good to use from 20 yards through 200 yards, on any magnification setting. On 6 power (top of magnification range), the hashmarks equate to a holdover for 300, 400, 500 and 600 yards.
This makes for very fast shooting for competitions such as IPSC or 3 Gun, and combined with a switchview throw lever, extremely quick transitions from near to long-range targets can be achieved, without relying on a secondary optic or BUS (back up sights). Another feature which aids quick target acquisition is the halo that surrounds the crosshair, drawing your eye to the centre of the reticle.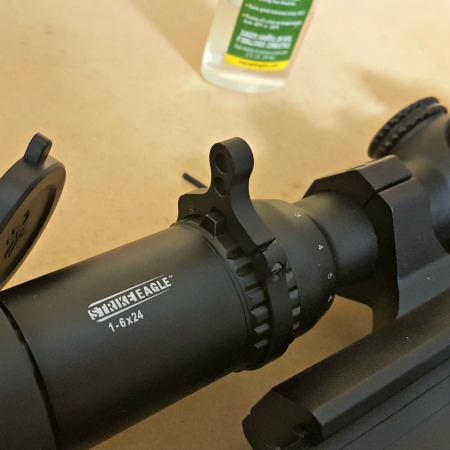 There is a newer version of the Strike Eagle, which comes with a 1-8x magnification range and the AR-BDC 2 reticle, which follows the general principals discussed above. It also, however, has holdover notches for 5 and 10 mph winds, again, aiding quick decision-making while engaged in a course of fire.
What if I'm not shooting .223 Rem?
One of the wonderful things about the AR platform is its versatile and modular nature. As such, many of you will likely have an AR-10 or AR-15 in a different calibre, and the AR-BDC hasn't got you all giddy yet. Well, the manual for the reticle does include drops for your average .308 Win load. And if you're getting more exotic than that, you can easily use the Vortex LRBC (Long Range Ballistic Calculator) to work out drops for your specific rifle and ammunition.
I've been using the Strike Eagle 1-6×24 on my .22LR trainer, which is a Carl Walther produced HK416D. By plugging in my ballistic data for CCI standard ammo (which I verified with a chronograph), I was able to find my drops on the various hashes in the reticle. In preparing for the PSNZ22 practical rimfire shoot, which had known distances of 40 m to 150 m, I zeroed at 50 m and used the LRBC to produce the below reticle image.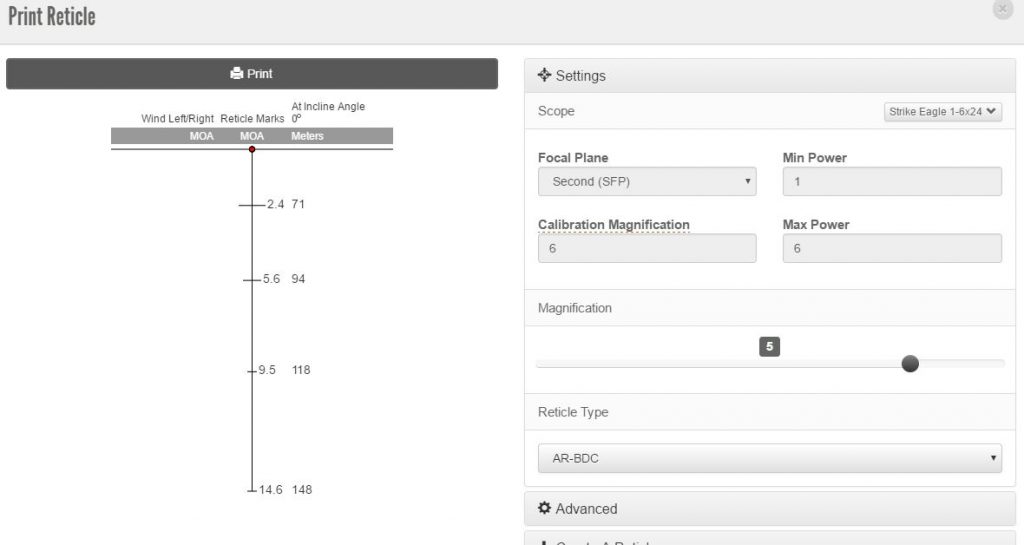 As you can see I had a pretty good holdover for 70, 95, 120 and 150 metres on the 5x setting. Getting used to the magnification settings (or writing them down) you could actually get quite a precise drop on a specific hashmark by change your zoom level.
Outstanding features
There are a few nice extras that help to keep this scope top of mind when considering an optic for 'run and gun' style comps. The included flip caps mean you don't have to worry about losing or forgetting a bikini style scope cover. It also adds to the 'tactical' look that many strive for with their black rifles.
Also included is an illuminated reticle, with 11 brightness settings. Sure, this isn't anything new, but it's well thought out. The dial is on the side of the sccope, rather than near the ocular bell. This means you hardly have to lift your head to see the setting you are selecting.
I don't often make use of illuminated reticles (black targets at extended ranges probably being a notable exception, with my Viper PST), but I found this one particularly useful for the inaugural PSNZ22 shoot, which was shot in overcast conditions in pouring rain. I mean, bucketing down at some points. Having the illuminated reticle on very bright setting (it was still daylight after all), I was able to easily pick up on the subtensions and holdover, despite shooting against black or dull targets, obscured by rain.
Speaking of rain, if you get it on your scope lenses – don't try and blow it off with your mouth before you shoot. You'll just fog up the glass for a few seconds, which is very disorientating. And I did it twice!
Build quality
The Strike Eagle is exactly what you pay for. The glass is not the same quality as the Vortex long range scopes, but you don't need it to be for this style of shooting. The construction is solid, yet refined. Not to mention, backed by the Vortex unlimited lifetime warranty. Did I mention the rain before? Because, damn, did it rain! The Strike Eagle 1-6×24 held up its end of the bargain, delivering outstanding reliability, and has done so on several trips since.
The turrets are capped – so if you're wanting the ultimate tacticool sniper rifle scope laser sight with external tactical tactile turrets, this might not be the one for you. However, if you're interested in shooting quickly from a defined zero while holding over at known or ranges, this scope will fit the bill, without the risk of bumping your turrets while throwing your gun around the course.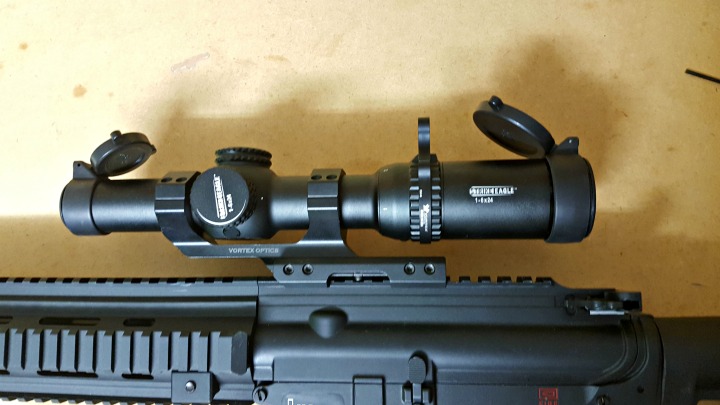 The negatives
When I first looked at the Strike Eagle, one of the other writers from the blog noted that when they had seen one in-store, the 1x magnification setting, was actually smaller than normal vision – in otherwise less than 1x. I was concerned about this and wrote to Vortex, and they pointed out that eye relief can make a difference in this department. After playing with the eye-relief adjustment ring, I found the perfect spot, and the magnification was true to what it said on the dial. So, not a negative, but something to keep an eye out for (pun intended).
There was one negative. I found the battery cap on the illumination knob wanted to unscrew when I manipulated the dial in the same direction as the thread. This may have been a missed thread on my scope in particular, or it could be something to watch out for when checking out the scope for yourself. Either way, I did not feel it was a big enough deal to try and send back for repair or replacement. In fact, if I just grasp the dial by the body of the knob, rather than near the edge, there's no problem.
It's inconvenient if you're trying to maneuver yourself and your firearm quickly – it's just one more thing to be mindful of. However, as I mentioned above, Vortex have the best warranty in the business, so if you find yourself with a part that doesn't feel quite right, don't be lazy like me – ask them to fix it, and they will.
Overall impression
Ten out of ten, would buy again. Yes, there are 'better' AR optics out there. You could have a very sophisticated piece of equipment, or you could go rugged and basic, I'm sure you could find something that beats the Strike Eagle in one way or another. However, I personally think that very few optics deliver in all the ways this Vortex unit does, and at the same price point.
If you want a reliable and easy to use scope with great features at a reasonable price,  I don't know what more you could ask for.