I recently heard a quote that went something like 'if everyone gave more than they took, the world would be at peace.' Well, while we can't claim to be tackling world peace, it's a fact of shooting sports that many take a lot and give very little.
This is why I was very impressed with an initiative by Kerry Adams of The Bloke to implement a hunter education and deer processing course. It's something that our community is increasingly missing – those that give back, and also those that know what they're doing.
For many hunters in their 20s and 30s, they didn't grow up in a hunting family, or their dad or uncle didn't pass on what they had learnt from their dad. And with an increasingly globalised Aotearoa, many come from countries where they either didn't have access to hunting environments, or had very different sorts of hunting available to them.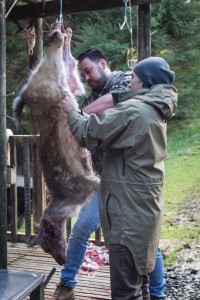 The 6th deer processing course
So the course I attended was Kerry's 6th, and you can see that all the kinks have been worked out of the event, as everything ran as smoothly as you could want. No doubt Kerry will aim to continuously improve the experience, but I certainly enjoyed my time at Balnagown Hunting and learnt a lot from Richard, the land owner and proprietor.
I heard rumours on the day of the next course being in October, so keep an eye on The Bloke's FB page, or check out updates at The Gearlocker website.
The format of the day
Even though we had spots of heavy rain, sideways rain, and even frozen rain, the afternoon was well coordinated and followed a pretty good timeline to get you back on track with your weekend by just after lunchtime.
After arriving and parking up near the main house and sheds, we carpooled in a few 4-wheel drives to get to the hunting hut and Richard's new meat-hanging 'gallows' and barbecue area.
Equipment
We started out with some basics on equipment, having a look at a few different rifles and their various accessories. Hunter and writer Dougie kindly provided us with some of our fresh meet for the day, and we got to check out her rifle as well.
After looking at things that go bang for a while, we looked at small, sharp, pointy bits. The knives in Kerry's box of toys were awesome, but also told a story of trying everything under the sun to come to the conclusion that, generally speaking, less is more. If you're wondering what knife to buy for your first hunt, I'd wait a sec and hop on this course and actually have a go with some different knives on an animal. So, armed with an insight into which knives to avoid and which ones are suited to small game such as fallow, we commenced with the processing part of the day.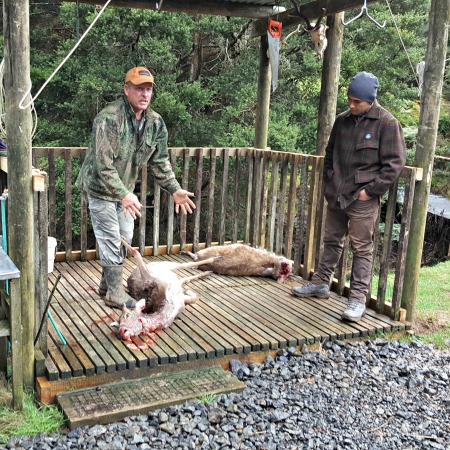 Dressing
First up, Richard gave us a very good introduction to his land and what he does. After that it was all pretty hands on as Richard took us through skinning and gutting a deer. Most people volunteered at some point and had a crack. With my lack of experience, I took all the opportunity I could to be the guy with the knife. Speaking of knives, there were a couple giveaways too, so a fair few us walked away with a new knife as well.
After the first dear was completely skinned and gutted, we tackled another, but this time field dressed it.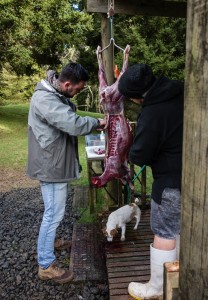 Breaking the animal down
The two fresh animals were taken away and a couple that were a a few days old and already dressed came back on the quad. This is where the lads from Country Meat Processors jumped in, showing us how to cut off backstrap, spare ribs, etc.
After breaking down the animal we wondered over to the bench and everyone had a crack at butchering a bit of deer, producing their own steaks for the bbq. It was amazing to figure out the different cuts and what really goes on if you usually just send a carcass to the butcher for processing.
Overall impression
After we'd all cleaned up and enjoyed a healthy bbq of venison steak sammies, accompanied by warm coffee, everyone stuck around for a bit of a yarn. There was a vast range of experience among the attendees, with a couple never having put a deer down, to experienced hunters looking to learn some new tricks (like punching out the skin – you'll find out what that means!).
The banter was good and there was plenty of food. To be honest there was plenty of time to talk and have a cuppa throughout the day as well, it wasn't like a classroom setting. It was a very relaxed atmosphere in which it was okay to learn and even make mistakes.
Richard was an absolute master at communicating the skills he's picked up over the years, and if you're ever in the market for a fallow meat hunt, or even your first ever hunt, a trip to Balnagown may be in order. Kerry was the consummate host, ensuring everyone benefited from the event, and again, it was great to see someone giving back to the hunting/shooting community by taking on such a big task and organising a day that many people benefited from.
Would I recommend it? Absolutely. Whether you're trying to figure out what to do after you shoot your first game animal, or you're experienced and trying to find out better ways to do what you're already doing, there's plenty to take in throughout the day, and it's a perfect excuse to spend some time outdoors, talking crap and enjoying the company of fellow shooters.
For a reasonable cost of $80 per person for just over half a day of education, food, great bush scenery and good mates, you really can't pass it up! I'm even thinking of going again just to cement what I learned the first time.